the island
picture-journey
travel guide
climate
journey there
ferry connection
holiday/sport
mountainbiking
windsurfing
sailing
health
real estate
building in greece

| | |
| --- | --- |
| | Paths in the Karystos countryside |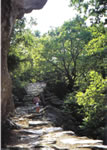 The countryside around Karystos has many places of historical interest and wonderful flora and fauna. A kalderimi is an old paved path. The word comes from the Turkish KALDIRIM which means Pavement or Sidewalk. The partly paved Kalderimi (mule paths) run through oak and chestnut woods, through canyons and across artfully built stone bridges through stunning scenery ...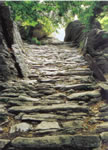 The walks have been planes to visit many of these places. (The times are very approximate, as individuals will of course set their own pace. Donít forget to wear a had and good walking shoes). Please help protect this area of beauty by closing all gates used on the walks and not leaving any litter. The walks (A-F) and descriptions were compiled by Christine Neill in the hope that more people will be able to appreciate the history and beauty of this area.
Walk (A) Nikasi - Kaliva

appr. 1,5 hours. Shade at VARDIANI and on the next KALDERIMI
Walk (B) Nikasi - Agia Triada
appr. 2 hours. Shade at Agia Triada
Walk (C) Kalyvia - Lala
appr. 1,5 hours. Shade on first part of walk
Walk (D) Palea Hora
appr. 1,5 hours. Partly shaded

Walk (E) Mekoundia - Grabia
appr. 2 hours. Part shade at the end of the walk
Walk (F) Grabia - Myli
appr. 2,5 hours. No shade on walk. Shade at picnic area
Walk (G) to the historic marble quarries
2 hours (with return)
Hike (H) to AN ANCIENT THOROUGHFARE - Dimosari Gorge
Five hour walk along a down hill footpath and sand road (one way)The footpath of the gorge was one of the primary thoroughfares in southern Evia. It connected the region of Kallianou and Kavondorou with Karistos. The stone footpath and the remnants of the cobblestone road date back to the middle ages, and perhaps even earlier. It is possible that the footpath was used to service mining in the area of Kallianou. Sound evidence (rust found at Kallianou beach and elsewhere) indicates that the area was a metallurgical centre during the archaic and classical periods.
Impressum
who we are?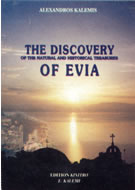 accommodation
camping
communication
Greek cusine
nature
ecosystems
sightseeing
monasterys
museums
other
links