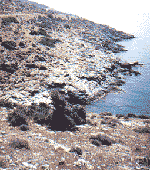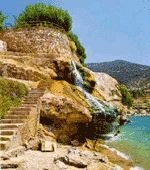 Size: After Crete, Euboea is the second largest of the Greek island. The Island is 175 km long and 6 - 50 km wide. Along with its islets, it covers an area of 3.550 sq.km.
Population: On the island, only by a narrow channel from the mainland are separate, live 208.000 humans. Also in the high summer make only few tourists, vacation on Evia.
Geography: The south of Evia is very different from the two other parts. Most apparent is its narrow firm: 62 km long, slightly bent with a swelling at the end of the cannel Doro, wich parts it from Andros.
Central Evia its landscape and geographical position are very varied, containing characteristics both of the southern and northern parts of evia. The center is the widest part, an here you can find the highest mountains covered with wide-spread and rich forest. The forest of Steni lies on the hillside of Dirfi and belongs to the most beautiful forest in Greece. Summer-green oaks, partly as timber-forest, grow mostly in the northern regions.
In brief, Northern Evia can be characterised as the green part of the island.
Chalkida, the capital of the island, and the comparatively larget owns around it accommodate the major part of population of the province.
Roads: The road system in the north can be considered as very good. The road system in central Evia is quite satisfactory with the exception, to date, of some streches in the eastern part of the region and some mountain villages.