the island
picture-journey
travel guide
climate
journey there
ferry connection
holiday/sport
mountainbiking
windsurfing
sailing
health
real estate
building in greece

| | |
| --- | --- |
| | Paths in the Karystos countryside |
Walk to the historic mable quarries
walking time 2 hours (with return)
Difference in height 220 – 580m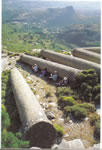 The nice settlement Myli is only 4 kilometer far from harbour Karystos. From the village of Myli right next to the capel of St. Theodoroi, the path (with indicated red walks) take us to Kyllindroi, where about 10 huge Roman Collumns, perfectly finished are still awaiting their shipment to Rome.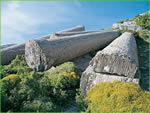 The area round Karystos was celebrated in antiquity for the veined green marble known to the Romans as Marmor Carystium and to us by its recent Italian name of Cipollino (onion). The name is apt, as a cut section of this marble looks very like an onion. It was used for monolithic columns, public fountains and wall-facings in Roman and Byzantine buildings from the first century BC to the seventh century AD. It was widely exported all around the Mediterranean, and a piece has even been found in York.

From Kolones further, is a way to get to the famous Ochi Dragon House and to the top of Mt. Ochi. However this way is suggested only for mountain climbers.
Impressum
who we are?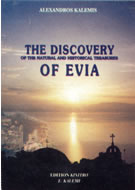 accommodation
camping
communication
Greek cusine
nature
ecosystems
sightseeing
monasterys
museums
other
links