Thermae Sylla Grand Hotel****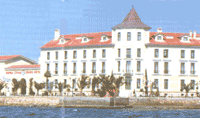 Thermae Sylla Wellness Hotel the hot springs palace of Edipsos is closely connected to the history of modern Greece, since the area where the hotel is constructed, was goiven to Admiral E. Tobazis by the first post.revolution Greek government, as a gift for the services offered during the Revolution of 1821. Later on, his heirs constructed the hotel Themae Sylla, the inauguration of which took place in 1897, being an important event of the time. It was not by coincidence that Eleftherios Venizelos, Marika Kotopouli and Kostis Palamas spent here relaxing moments, while Churchill, Onassis, Greta Garbo, Maria Callas, Elli Lamberti, Omar Sharif and other personalities from all over the world experienced seveeral hours of entertainment. Nowadays, having made an enormous investment, we have managed to build an outstanding hotel, to offer you four star accommodation and lots of excitements.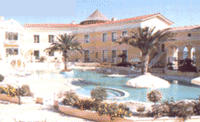 Thermae Sylla Wellness Hotel is a luxurios hotel with rooms equipped with air-condition, safe, refrigerator, mini-bar, TV and cable TV, radio, slippers, cosmetics, bathrobe and other small gifts. It runs all year long and comprises aongress and reception rooms, restaurants, piano-bar, deck-bar, pool-bar, recreation rooms, shops, sport facilities. In the hotel there are also cafeteria, mini-market, jeweller's shop with souvenirs, ect. The hotel staff ist at your disposal 24 hours a day.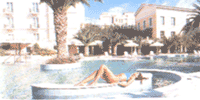 Roman General Syllas often used to take hot baths here for treatment and invigoration reasons. As a matter of fact, the hotel was named after him. Deshalb trägt das Hotel seinen Namen. Hotel The Thermae Sylla Hotel is a luxury Hotel, built on the most beautiful part of Aidipsos upon the sea and far arway from the city noise, with a magnificent view on the North Euvoic Golf. 108 luxury rooms and 5 suites ready to welcome you, equipped all with original English furniture and all modern conveniences, witch together with our unique thermal cures, they will turn you stay here into at exceptional experience.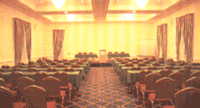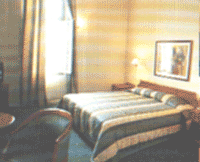 Restaurants:
Mediterranen Restaurant , it is open during the evening in order to offer you flavours of authentic Mediterranean cooking, using the best materials and excellent service. Edipsos Restaurant is open noon and evening in a delicate enviroment, offering a large variety of flavours. Special boarding programs with healthy, ecological products, and Greek traditional healthy cooking.
---
THERMAE SYLLA SPA proposes you complete program beneficial to your health and beauty.

The most modern Center of high medicinal tourism in Europe