Today's capital of the homonymous municipality; Orei, was one of the most brilliant Greek cities of antiquity. Its long history is interwo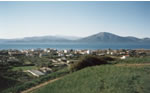 ven with the resplendent and big in extent and population ancient city of Orei.
There are many versions of the origin of the city's name. Some refer to the king of Istiea Oriona, son in law of the king of Chios Oinopiona, or to the brother of the nymph Istiea, Oreo, and many more.
The city passed through many phases, during the 2500 and more years of recorded history. The first traces of habitation are dated in the Neolitic age. The city of Orei began to thrive mainly after 445 B.C., when Pericles and the Athenians punished very strictly a team of oligarchic Istieaeis, who attempted to revolt, by exiling them and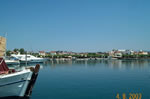 establishing 2000 Athenians.
In the next years of political agitations in Greece and Euboea, the city of Orei passed under the sovereignty of Sparta and later of the Macedonians, during which period the Platonic philosopher and politic Eufraios. During those years and specifically during the dominion of Dimitrios the Besieger the city of Orei reached its highest point of development.
For roughly one century that could easily be characterized as the olgen century of Orei, the cultural was enormous.
The fact that Orei and Istiea were represented in the Delfiki Amfiktionia ( a geligious alliance of great importance) with ieromnimones ( a type of consuls with high responsibitities) reveals that Northern Euboea used to have a very important role in the political developments of Greece.
A sample of the huge cultural progress of Orei, that managed

to survive the destructions that followed, is the marble bull, 3,2 m long, which was found in August 1965 at the beach. Today it is exposed, in glass showcase, at the square near the harbour of the city and behind the temple of Savior.
The decline of Orei began simultaneously with that of Macedonians and the appearance of Romans on the scene. In 199 B.C. the Romans and their ally Attalos, after the occupation of Pteleo, besieged the city of Orei. After fierce battles with the guards of the city's walls with catapults, rams and other machines they managed to capture and destroy this important city of Istiea.
In the year of Byzantium, Orei appears once again as a seat of Bishop (after 400 B.C.), which was part of the Metropolis of Athens, and from 1300 onwards, of the Metropolis of Euripos. Certain discoveries, found today in the temple of Saint Vasilios (Northern Orei), as well as an imposing catacomb are dated in the early Byzantine years.
During the Venetian domination Orei became the seat of the Baron of Lombardy Peccoranro Dei Peddorari. During these years, on top of other ancient buildings the famous castle of the city is renovated and becomes the theatre of many material confrontations, but also of the big love between the liberator of Euboea,
knight Likarios and the beautiful Venetian maiden of the manor of Orei, Feliza.
After the end of the Ottoman domination, the new city of Orei and mainly its coastal are is built with excellent street layout based on topographic plans that were worked out in 1933 by the German topographer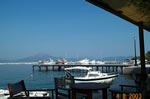 George Schumacher. Today in a room of the Town Hall of the city the discoveries of the Archaeological Collection of Orei are exhibited to testify the past glamour of the wider region.