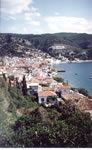 Limni today is atourist town under development and is in the process of creating an infrastructure to match.
Crowds of visitors stroll through (especially in the summer months) and there is more to come.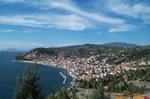 Unknown to the general public, there are prehistoric relics, remains of the two famous ancient towns of Aiges and Elymnion, which have been lost in the passage time, some of the best Byzantine Monasteries in Greece, built on the sites of Homeric temples, a host of small, humble chapels dating from the middle-ages, and a traditional island structure which (despite the foolishness of our age) the district continues, to a great extent, to maintain.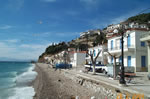 It also has a great deal to offer from the "inexhaustible well", of its tradition through the ages; a host of stories, myths and legends which constitute a rich folkore.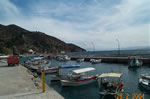 It has, as well, its many natural beauties and its cool breezes, the Graigos (northeast) and the Mistral, which blow during the summer over the town from Loumitsa to Kanalakia, carressing the tiled roofs and murmuring the ancient stories.