the island
picture-journey
travel guide
climate
journey there
ferry connection
holiday/sport
mountainbiking
horse riding
diving
windsurfing
sailing
health
real estate
building in greece
| | |
| --- | --- |
| | Monastery Galataki |
An historic abbey 7 km distant from Limni, at the foot of Kandilio m´ountain. A byzantin style abbey of the 7th a.c. century on ancient ruins of the temple for Posidon Aegeas, at the place (as it is said) of ancient Evoic Aeges.
The church is of byzantin style with a yard and cells, according to the standards of the churches in Mount Athos with a medieval tower.
Wall paintings of "Paleologic Circle" decorate the lodger as well as the main church (where a significant part has been destroyed) and the vestibule where they are preserved in an excelent condition.
The abbey (wich is used today by nuns), is considered as one of the most ancient and significant ones - not only in Evia - but also throughout the greek territory.
Impressum
who we are?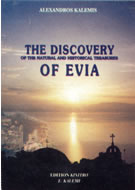 accommodation
camping
communication
Greek cusine
nature
ecosystems
sightseeing
monasterys
museums
other
links