the island
picture-journey
travel guide
climate
journey there
ferry connection
holiday/sport
mountainbiking
horse riding
diving
windsurfing
sailing
health
real estate
building in greece

journey there in the north
Only 150 km from Athens.
How to get there:
150 km motorway Athens-Lamia to Arkitsa. From here take the ferry for a 45 minute crossing to Loutra Aedipsóu.
Or via the islands (a very beautiful route; but by no means the most direct). At Chalcis over the bridge, then 124 km to Loutra Aedipsóu through unique countryside.
The journey can also be undertaken by public transport (bus).
From Thessaloniki or Volos to Glifa, and then on by ferry to Agiokambos; approx. 30 minutes' crossing.
In summer flight connection (charter airport Skiathos). From here in 20 minutes by hydrofoil to Pefki.
Impressum
who we are?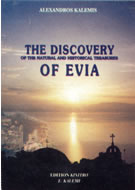 accommodation
camping
communication
Greek cusine
nature
ecosystems
sightseeing
monasterys
museums
other
links